Children's Storehouse
What's On ?
Baby's & children's clothing and equipment for those in need.
Recent reported statistics regarding the poverty levels in Blackburn are shocking:"Charity 'Save the Children' found that 6000 youngsters in the borough were in families that missed out on regular hot meals or new shoes"
If this is so, how many babies are missing out on other essentials ? How many children are missing out on clothing, toys etc ?
After talking with a number of 'care' professionals we at Blackburn Vineyard Church saw that there was an opportunity to supply (free of charge) GOOD QUALITY / SECOND-HAND (and some new) baby equipment (eg cots, prams, high-seats etc) and children's clothes; maternity wear; and toys / games / books - to families on low income.
To meet this need we have established the CHILDREN'S STOREHOUSE.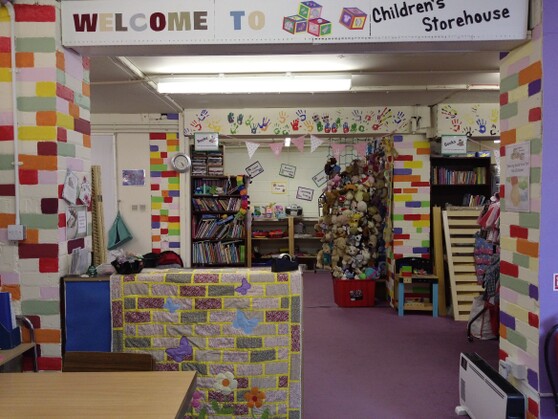 At the Storehouse we receive such items as above donated to us; we then sort, clean and store them; ready for distribution to people referred to us from 'agencies' such as health professionals; children's services, social services, churches, Foodbank etc. Where we receive goods that don't quite match our criteria for giving out, then we could source them to other organisations who will buy them from us. The money we receive in this way is used to buy mattresses for Moses Baskets, Cots & beds (as we do not give out used mattresses)
LOCATION & PROCEDURE
We started the store within a domestic garage, but soon outgrew that. But thanks to the Methodist Circuit and particularly St Paul's Church, we were able to move our store to their basement.
However, as this soon became to small to operate from we were able to find bigger and more suitable premises, closer to the Town centre (thanks to Blackburn with Darwen Town Council). The building needed lots of TLC, as it had not been used for many years; but thanks to a few hard-working volunteers, the place has been transformed to operate the Children's Storehouse.
[Take a pictorial look at our journey at the bottom of this page]

We are always looking for VOLUNTEERS to help - so if you are interested, please do not hesitate to contact us for more information.
THE PROCESS is very simple – contact is made by the referrer via our Children's Storehouse email or telephone. Arrangements are then be made for the family to visit the Storehouse and select the items that they need.
FOR MORE INFORMATION about DONATING items / REFERRING someone / have a NEED please use any of the following contact details:
email ; storehouse@blackburnvineyard.org.uk
facebook :
https://www.facebook.com/blackburnchildrenstorehouse
C
hildren's Storehouse ADDRESS :
Unit 10, Red Rose Court, Sunnyhurst Road, Blackburn, BB2 1PS
or if you feel that you would like to support this ministry financially please click here and you will be taken to another page with details on how to donate.