Welcome

to Blackburn Vineyard Church's web site.
As you move from page to page we hope you get the flavour of who we are. We are a relatively new church to Blackburn with Darwen and we want it to be a place where people can learn to love Jesus; love one another and love the community around us – not just spiritually, but in practical ways too. In fact to live out life just as God intended us to.!
It's an exciting new adventure for us and we would be delighted to meet up and chat with you about it. If you are interested please do come along to one of our events or just contact us via the
'Contact' page.
Andrew & Michelle (Senior Pastors)
Sadly, because of the Covid-19 outbreak, we are not meeting in person for the moment.
But WE ARE STILL MEETING TOGETHER on zoom.
Should you want to join us 'live' on zoom ... just email us
HERE
& we will send you a link and explain how to set it up.
Meanwhile, check out our KIDZ work for last week, by clicking on the F3 icon at the side.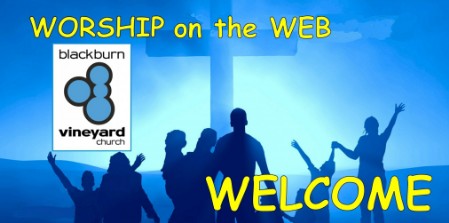 and now for a Flavour of Blackburn Vineyard…
A NEW SEASON FOR OUR CHURCH
It's now been 9years since David & Cath returned to Blackburn and established Blackburn Vineyard Church. Since then, there has been much activity, fun, fellowship (& food .... of course !!). Right at its heart has been a deep desirer to worship Jesus and share His love with the whole community of Blackburn with Darwen. This has been demonstrated in many waysand, as David & cath retire from leading teh church, this short video covers just some of the things we have done together over these first 9 years.