Cath and I have the great pleasure in leading Blackburn Vineyard Church. We have been married for 43 years and have two daughters, two granddaughters and one grandson.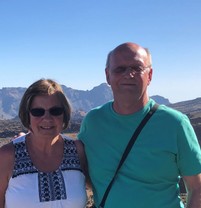 In 1994, we felt God's calling on our lives to leave Blackburn and train at Moorlands Bible College, Dorset. After three years there we took up leadership of an independent evangelical church - Winslow Christian Fellowship in Winslow, Buckingham, where we ministered for 15 years. Whilst there, Cath worked for a local Pre-school, working with the under 5's and children with special needs.
Towards the end of 2011 we sensed God was preparing the way for pastures new …. And here we are … Blackburn ! Since returning in April, 2012 we have had so many people ask why on earth have we returned (after escaping Blackburn). The answer is very simple …. For family; for God's family ! God has called us to join others in the town in working towards extending His family and helping people to live life in the way God intended "life in its fullness".
David & Catherine Podmore (Senior Pastors)